with the awareness of the impact our every day choices have on the planet and our future generations comes the overwhelming path to "going green" -- especially if you've been bombarded by all the seemingly unpreventable ways we've been putting toxins into our bodies. the best way to go about this lifestyle change is to make small steps to living a more sustaible, toxin-free life.
3 easy ways to start go green
1. choose reusable
every time we throw something away -- whether it be a diaper or an egg carton or the packaging from a new toy -- we are able to forget about it and never think about it again. but the truth is that it will be sitting in a landfill for hundreds of years. even things we consider to be biodegradable will sit in a landfill for years, without oxygen and water to help the process along. and when non-biodegradable items do finally break down, the chemicals will still linger in our air and waterways. besides the fact that people all around the world are creating billions of pounds of trash every year and we have no idea what we're going to do with it all (huh, that's a bummer), we also have to keep in mind the oil and energy and non-renuable sources used to create the product in the first place. while the average american family in the real world isn't going to always have the means of living the most environmentally friendly life, one of the easiest things you can possibly do is choose reusable over disposable. my big reusable item is, of course, cloth diapers. i have become so used to using cloth diapers that i feel twinges of guilt whenever i toss a disposable diaper in the trash. if we used disposables on an everyday basis, i would feel like i were using plastic cups, plates, and utensils every day. but i'm not just talking about cloth diapers, i'm talking replacing paper towels, tissues, napkins, sponges, disposable dusting cloths, coffee cups, and plastic bags with reusable alternatives. microfiber cloths are great for dusting. for cleaning and doing the dishes, i use terrycloth rags, a different color for each job (so i'm not mixing my bathroom rags with my kitchen rags). and if you're already cloth diapering, using cloth wipes is an easy switch.
2. go green by bringing plants indoors
gone are the days of pretty solid wood furniture, unless you want to pay a steep price. most everything these days in made out of particle board, which is totally disappointing, not to mention kind of gross. particle board contains formaldehyde, a natural substance that is used in the manufacturing process, but can have negative long-term effects. you know that new furniture smell?
that's not a good smell
. shortly after river was born john and i purchased a cute ikea coffee table, but we could smell the particle board literally for months afterward -- i'd say probably six months later we could still smell it every time we came into the apartment. what's crazy is most furniture takes five to ten years to completely outgas, long after we can smell it. and again, not every average american family living in reality land can afford an ultra-expensive air purifier, which would be your best way of dealing with outgassing. luckily, there is a much cheaper, prettier option -- plants. we all know plants absorb carbon dioxide and release oxygen. but they also absorb all sorts of nasty chemicals that can be in the air, such as formaldehyde.
plants are natural air purifiers
. good news, huh?
3. buy second hand
think again back to our disturbing landfill issues -- everything we use will most likely end up in some landfill, some where, or be added to that
giant plastic island
in the ocean. i read once that if everyone on earth lived like the average american lives, we would need 6.6 earths to sustain us. so i took this cheesy quiz, thinking i was totally going to rock and it would tell me that if every one lived like me we would only need one earth, but instead it told me we'd need four. damn. this quiz really convicted me of something. who am i to use more than what's mine? who am i to live so lavishly (and yes, i would say that if we'd need four worlds to sustain whitneykingdom, that's pretty lavish) that i am using
that much
of the earth's natural resources? it redefined carbon footprint for me, and it even struck me on a spiritual level -- god has given us this beautiful earth to take care of and we are abusing its resources, taking more than what is "ours." like good old ghandi said, "there is enough to everyone's need, but not everyone's greed." isn't that the truth. but we don't have to live like this. if i wanted to, i could change my consumer habits to only buy used items (outside of food, of course), items that one person has already used. items that will just end up in the landfill someday, so why not get the most out of them, instead of buying a completely new item that will join it in the landfill someday? and it really wouldn't kill me. if anything, i'd get into the habit and then set a good pace for my children, and then maybe my children's children. it's a very american point of view to think we deserve this and that. but the reality is that we have so much stuff.
too
much stuff.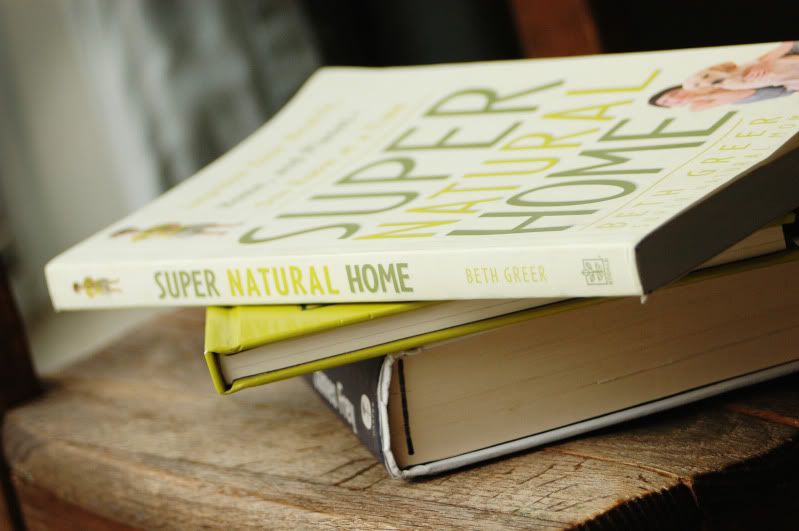 one of the best books i've read about sustainable, natural living is
super natural home by beth greer
. i lurve it so much, i'm going to give someone a brand-new copy of it. :D greer packs this easy-to-read book full of eye-opening facts and helpful tips. there's information about practically everything, from what food ingredients to avoid, to what flooring is the greenest choice, to the (un)regulation of our cosmetics. i thoroughly enjoyed this book and thought it to be a gem for those interested in living an earth-friendly, healthier life. it is one of my favorite books on green living so far! for this giveaway, you have five ways to enter, but the last option can give you many entries, if you choose.
1. being a follower of leaves of my tree gets you one entry. (and yes, it counts if you're already a follower -- thanks!)
2. "liking" our facebook page gets you another entry. big changes to our company are coming, so stay tuned!
3. sharing this giveaway on your blog gets you two entries. leave a link, please!
4. becoming a follower of our twitter gets you one entry. please leave your twitter name.
5. for every social media site on which you share this giveaway, you get one entry. the possibilities are endless -- message boards, facebook, twitter. one entry per share!
remember, leave a separate comment for each entry, so it will count! this giveaway is open to US residents. please leave your email address in the comments if you wish to be contacted that way. the giveaway will close thursday, february 10th, whenever i get the chance to write *closed* in the title. as long as you see it open, you still have the chance to enter. good luck!
neither beth greer nor rodale books are affiliated with or sponsors of leaves of my tree.